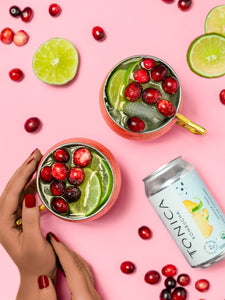 Bless your lips this holiday season with all the festive feelings in a glass - we're talking about these delicious and refreshing Cranberry Moscow Mules! ❤️
INGREDIENTS: 4 ounces Tonica Ginger Twist Kombucha, 4 ounces cranberry juice, 2 ounces vodka, 1 lime, cut in half, crushed ice cubes, fresh or frozen cranberries
How to make it:
✨ Place 1 cup crushed ice into a copper mug.
✨ Add our Ginger Twist kombucha, cranberry juice, vodka, and the juice of a squeezed ½ lime in a cocktail shaker filled with ice.
✨ Stir or very gently shake, then pour into the copper mug.
✨ Top with cranberries and garnish with a lime wheel, cranberries, and serve. 
Do not over shake the mixture as there is bubbly kombucha in the drink, plus you don't want to waste any! Gently shake for a second or two or stir.