Tonica Kombucha Virgin Mimosa Recipe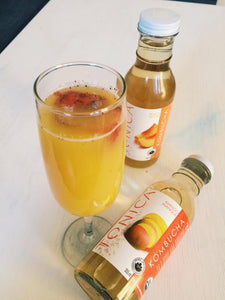 Mmm mimosas - a weekend ritual. We at Tonica like our mimosas topped with sparkling Kombucha tea, of course. While most kombucha brands use artificial carbonation, Tonica Kombucha is one of the few Kombucha brands that uses natural carbonation. This creates an effervescent taste that works wonderfully in a mimosa.
The benefits of starting off your morning with a Tonica Kombucha mimosa are bountiful, and the last thing we want is to feel groggy in the morning after a long night out. Kombucha is a natural energy booster that does so much more than simply provide energy. It detoxifies the system, increases metabolism, and is rich in vitamins and enzymes. How's that for a super power mimosa?
Ingredients
½ Cup of Jasmine flavoured Tonica Kombucha
¼ Cup Dry Prosecco
½ Cup of Orange Juice
3 Raspberries
Directions
Mix ½ cup of orange juice with ½ cup of Jasmine flavoured Tonica Kombucha and ¼ cup of dry Prosecco. Garnish with raspberries, or fruit of your choice.